Family-Owned & Locally Operated Since 1983
AllStar Pool & Spa provides Healthy Living spas throughout Birmingham, AL and the surrounding areas, including Trussville, Leeds, Pell City, Springville, Hoover, Gardendale, Morris, Hayden, Corner, Fultondale, Hueytown, Bessemer, Moody, Clanton, Alabaster, and more. With decades of experience in the industry, you can rely on our expert team to provide you with the best pool and spa products and services. We are a The Better Business Bureau (BBB) A+ Rated Company, so you can rest assured we provide exceptional products and services and unparalleled customer service. We also offer flexible financing and free in-store water analysis for the convenience of our valued customers.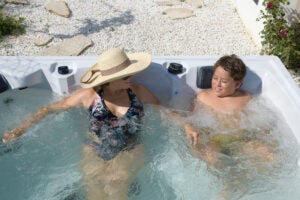 Modern Styling with World-Class Performance & Features
Your wellness is truly dependent on your choices for healthier living, food and fitness for strength, and relaxing for reducing stress and fatigue. Healthy Living hot tubs promote a buoyant balance for a healthy mind, body, and spirit. Here, you can slip into a world of benefits that will help to improve your quality of life through purposeful relief and enhanced wellness.
What Is A Healthy Living Spa?
A Healthy Living spa is a one-of-a-kind hydrotherapy experience. This exceptional hot tub provides therapeutic care and relaxation at an affordable price. Healthy Living spas stimulate natural healing through a combination of hydrotherapy, radiant heat, and whole-body relaxation. Using heat and massage elements, these state-of-the-art hot tubs can provide various health benefits.
What Is Hydrotherapy?
Hydrotherapy is a therapeutic technique that uses water for health purposes. Also referred to as water therapy, hydrotherapy uses either hot or cold water with varying water pressure and flow to provide treatment that can ease both physical and mental symptoms. Water has a wide range of healing properties. Hydrotherapy can benefit almost anyone by combining heat, buoyancy, and massage. Some of the benefits of hydrotherapy include, but are not limited to:
Improved Sleep Patterns
Reduced Stress Levels
Eased Muscle Tension
Soothed Joint Pain
Improved Circulation
Weight Maintenance
Improved Complexion
The Features of Healthy Living Master Spas
A Healthy Living Master Spa comes equipped with a wide range of state-of-the-art features. They are designed to entice the senses while offering unparalleled relaxation, recreation, and wellness. Each Healthy Living Master Spa comes equipped with its own look, feel, and features. This enables our valued customers to determine what features best suit their unique needs. As the industry's leader in quality and luxury, you can expect nothing less than the best from this spa. In addition to luxury seating, stress relief, and simplicity, here's a list of what you can expect with Healthy Living Master Spas:
Health Benefits
Fitness
Hydrotherapy
Clean, Pure Water
Locked-In Heat
Family Fun
Swimming
SoftTread™ Floor System
Fusion Touch Sound System
Low Maintenance
VIP Technology
The Health Benefits of Healthy Living Spas
Eating right and exercising are undoubtedly essential parts of healthy living, but the benefits of hydrotherapy are often overlooked. Hydrotherapy combines heat with the element of massage to ease aches and pain, calm stress, and boost the natural healing response. The health benefits of Healthy Living spas include, but are not limited to, the following:
Reduced Pain
Improved Mental Health
Lessened Arthritis Symptoms
Enhanced Relaxation
Assisted Recovery from Workouts
Contact Us Today About Healthy Living Spas
Are you looking for a Healthy Living pool and spa? You've come to the right place. AllStar Pool & Spa has served the pool- and spa-related needs of residents throughout Birmingham, AL and the surrounding areas since 1983. Not only have we been in business for decades, but our expert team boasts more than 90 years of combined industry experience. Contact us today to learn more about Healthy Living spas and how they can help you melt away your workweek troubles and soothe your aching muscles and joints.
What Make Us Unique?
AllStar Pools is a Locally Family Owned and Operated Business
Opened in 1983
Over 90 Years Combined Experience in Pool and Hot Tub Industry
BBB A+ Rated Company
Full Pool and Spa Products and Service
Flex Financing Available!
Free In-Store Water Analysis