H2X: Water to the Extreme
Enjoy an Exceptional Experience 365 Days a Year
Our Birmingham pool and spa company offers the H2X premium jetted swim and fitness spa by Master Spas, a trusted leader in home spa technology. If you enjoy swimming as a form of exercise, our swim spa provides you with the opportunity to enjoy aquatic exercise any day of the year! In addition, these swim spas can also be used for therapeutic purposes as well.
The H2X spa provides lustrous styling and features that include:
Flat floors
Spirited jets
Form-fitting seats
Click here to learn more about the H2X Spa.
Whether you use your spa for fitness, family enjoyment, therapy, or relaxation, this extraordinary swim and fitness spa offers something for everyone. With an H2X, staying fit is only a few steps away. With a flat floor and no hidden obstacles, you can jog in place or utilize the H2Xercise System to increase benefits of resistance training. An optional ProSwim harness is also available for swimmers to practice their stroke! Request more information by calling us at (205) 655-8870 (Birmingham).
Trainer 19 Deep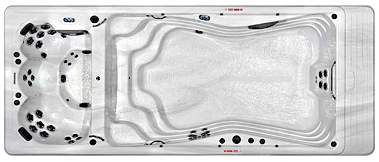 Dimensions 231′ x 94′ x 60′
Water Capacity 2,270 Gallons
Dry Weight 2,900 lbs.
Propulsion System 4 Flow Stream Swim Jets
Pumps 4
Jets 48 (incl. 4 Flow Stream Jets)
Laminar Flow 6
LED Lights
Ozone System
Trainer 19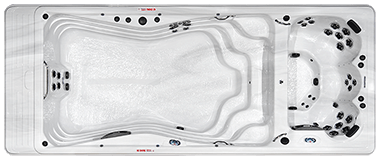 Dimensions: 231″x94″x51″
Water Capacity: 2,040 gallons
Dry Weight: 2,460 pounds
Pumps: 4
Jets: 48
Water Falls: 7
LED Lights
Ozone System
Trainer 18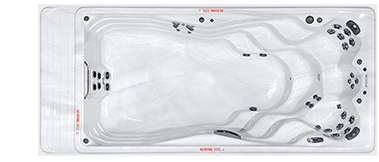 Dimensions 215″ x 94″ x 60″
Water Capacity 2,500 Gallons
Dry Weight 3,240 lbs.
Propulsion System 4 Flow Stream Swim Jets
Pumps 2
Jets 43 (incl. 4 Flow Stream Jets)
Waterfalls 1
Swim Pro Anchor Standard
LED Lights
Ozone System
Trainer 17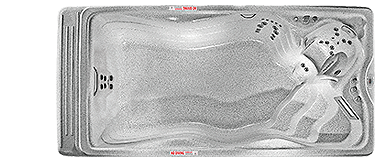 Dimensions: 201″x94″x51″
Water Capacity: 1,925 gallons
Dry Weight: 2,700 pounds
Pumps: 2
Jets: 45
Water Falls: 2
ED Lighting
Ozone System
Trainer 14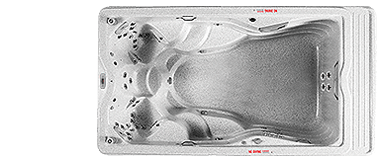 Dimensions: 174″x94″x51″
Water Capacity: 1,425 gallons
Dry Weight: 2,260 pounds
Pumps: 2
Jets: 55
Waterfalls: 2
LED Lighting
Ozone System
Trainer 12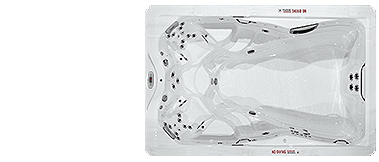 Dimensions: 144″x94″x51″
Water Capacity: 1,300 gallons
Dry Weight: 1,620 pounds
Pumps: 2
Jets: 55
LED Lighting
Ozone System