Hot Tubs Installation in Birmingham & Gardendale
Get Your Home Remedy Today
Hot tubs provide pain relief for general stiffness and arthritis aches. The warm, pulsating water increases blood supply to aching joints, stimulates the release of endorphins to improve mood, and decreases muscle tension for more flexibility. With contemporary styles and fiber-optic or LED lighting, a hot tub can become the centerpiece of your yard. Indoor units are also available and are normally placed in larger bathrooms or sunrooms that have extra space. Whether you're looking for an in-ground hot tub or a spa tub, AllStar Pool & Spa has you covered. In addition, maintenance for hot tubs has never been easier, and the with years of expertise, AllStar Pool & Spa can ensure you'll be perfectly equipped to take care of your hot tub for years to come.
At AllStar Pool & Spa, we have a collection of jacuzzis hot tubs that are sure to be the most comfortable place in your home!
Designing Your Ideal Hot Tub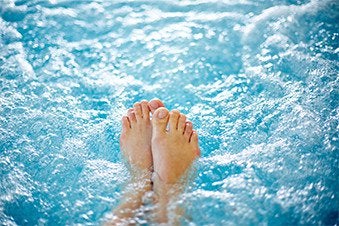 There are many reasons behind the consistent popularity of private hot tubs, often called Poolspas. Today, hot tub designs allow you to create the perfect backyard oasis based on your personal preferences.
Size is a decision you should make early on in the design process. Your hot tub can be a small, intimate setting for you and a single partner, or a larger space to accommodate multiple family members and friends in a social setting.
The purpose of your Poolspa should also come into play when creating your ideal hot tub. A hot tub can serve solely for relaxation or hydrotherapy, while a swim spa provides a compact space for exercise or rehabilitation.
The components that make up your Poolspa's systems will have an effect on both its convenience and its energy efficiency. Choosing quiet, efficient pumps and plumbing will help you enjoy your hot tub experience;
opting for high-efficiency pumps and jets can also help you maintain a greener, lower-cost backyard feature.
Our Favorite Hot Tub Collections
At AllStar Pool & Spa, we've made a point to only carry top name brands for all of our products. Our spa collection is full of a wide range of the top hot tubs available on the market in addition to accessories such as jacuzzi covers. Nordic and Clarity are two top-rated brands that carry only the best hot tubs on the market. And today, having a hot tub has never been easier! Current models require very little maintenance and they are portable if you decide to relocate to a new home.

Master Spas – Create your own backyard oasis with a perfect blend of art and science. Hear the waterfalls, enjoy the music, watch movies on your iPad, and feel the atmosphere created by the color changing LED lights. Amidst these calming features, the powerful, exclusive therapy jets put you in complete control of your wellness. Your remedy and relief is waiting for you. Slip in, relax, and recharge. If you are looking for a spa tub in Birmingham or the surrounding area, see Master Spas full product line at AllStar Pool & Spa.
Please call us at Birmingham location or Gardendale location.