Hot Tub Installation
Leading Hot Tub Installation Specialists in Birmingham, AL
When it comes to enjoying a luxurious soak in your own private hot tub, there's no better contractor choice than the above ground pool and spa experts at AllStar Pool & Spa. We're the leading hot tub installation specialists in Birmingham, AL. We can help you select a model of a hot tub that fits your needs, your preferences, and your budget. We carry a wide range of top-brand spas to choose from, and we can give you expert guidance on how best to prepare your property for your new hot tub. We offer affordable rates, and our technicians are fully licensed and insured.
Give your family the gift of a spa without headaches or hassles. Contact AllStar Pool & Spa today!
Designing Decking Around Your Hot Tub
Before your new hot tub can be delivered, you'll need a secure base to support your tub's weight. For this, we recommend that you contact a trusted local concrete or decking contractor who can pour a slab or build decking that will meet your hot tub's requirements.
While a spa pad can be used as a foundation for your hot tub, we strongly advise a more permanent support system. We're happy to give you all the specifications your contractor will need for your new foundation or deck and answer all your questions.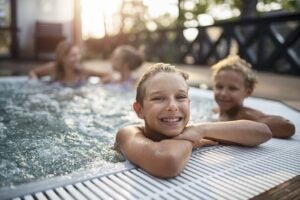 Enjoy the Ultimate Hot Tub Experience
We're happy to provide you with all the technical specifications in regards to power consumption needs for your selected tub, and we can give you some great ideas on how you can configure your hot tub area.
Once you've prepared your property, our technicians will arrive to deliver and perform seamless hot tub installation. We carry a wide selection of quality hot tubs and hot tub accessories that can fit almost any property size and work with any budget. Repurpose your old yard into a haven of relaxation with luxury hot tub installation from AllStar Pool & Spa today in Birmingham, AL.
What Make Us Unique?
AllStar Pools is a Locally Family Owned and Operated Business
Opened in 1983
Over 90 Years Combined Experience in Pool and Hot Tub Industry
BBB A+ Rated Company
Full Pool and Spa Products and Service
Flex Financing Available!
Free In-Store Water Analysis