Pool Renovation and Repair In Birmingham, AL
We Can Help You Get Your Pool Looking Like New Again
If you have a swimming pool, you know that it's important to keep it in good condition. Pool renovation and repair can be expensive, but it's worth it to keep your pool in top condition. At Allstar Pool & Spa, we offer comprehensive pool renovation and repair services for homeowners in Birmingham, and we also serve many communities across Alabama. We can help you restore your pool to its former glory or make timely repairs to keep it running smoothly. If your swimming pool needs renovation, give us a call today.
Types of Pool Renovations
There are many different types of pool renovations that can be done to improve the look and feel of your pool. One popular renovation is adding a pool deck. This can provide a more aesthetically pleasing appearance to your pool and can also add value to your home.
Another popular pool renovation is resurfacing the pool. This can be done for both functional and aesthetic reasons. It is important to consult with a professional before undertaking any pool renovations, as many factors need to be taken into account to ensure a successful outcome.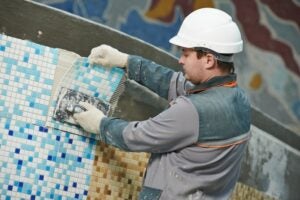 Signs Your Pool Needs Renovation
A pool is a significant investment, and one that should last for many years with proper care. However, over time, even the best-maintained pools can start to show signs of wear and tear. If your pool is starting to show its age, it's time to consider a renovation. Here are some common signs that your pool could use an update:
The tile is cracked, chipped, or otherwise damaged.
The pool surface is rough or stained.
The pool pump and filtration system are outdated or not working properly.
The decking around the pool is cracked or deteriorating.
If you notice any of these problems with your pool, it's important to consult with a professional before deciding on a course of action. With so many options available for pool renovations, it's important to get expert advice to ensure that you choose the right upgrades for your home.
The Pool Remodeling & Renovation Process
Whether you're looking to update the look of your pool or improve its function, there are a few key steps in the renovation process that you'll need to follow.
First, you'll need to develop a plan. This means deciding what changes you want to make to your pool and how you're going to go about making them. Do you want to add a new feature, like a waterfall? Or are you simply looking to update the tile and decking around the pool? Once you have a clear idea of what you want to do, you can begin collecting quotes from contractors.
Next, you'll need to obtain the necessary permits. Depending on the scope of your renovation project, you may need to apply for a building permit from your city or county. Once you have all of the required permits in hand, you can begin scheduling the work. It's important to keep in mind that some renovations, such as adding a new feature to the pool, may require that the pool be emptied during part of the construction process.
Finally, once the construction is complete, you'll need to take care of the finishing touches. This includes adding any new features that were part of your renovation plan and making sure that everything is properly cleaned and sanitized before opening the pool for use. By following these steps, you can ensure that your pool renovation goes smoothly and that your pool is ready for another season of fun in the sun!
Contact Allstar Pool & Spa for Swimming Pool Service
If you need swimming pool renovation, contact Allstar Pool & Spa. We have years of experience in the industry and can help you get the best results possible for your renovation project. In addition to pool renovations, we also offer above-ground pool installation, hot tub installation, and swim spa installation services. We serve customers in Birmingham, AL, and the surrounding areas. Contact us today for more information.