Serving Alabama's Pool-Related Needs Since 1985
AllStar Pool & Spa provides the best swim spas in Birmingham, AL and the surrounding areas, including Trussville, Leeds, Pell City, Springville, Hoover, Gardendale, Morris, Hayden, Corner, Fultondale, Hueytown, Bessemer, Moody, Clanton, Alabaster, and more. If you're looking for swim spas for sale, you've come to the right place. We sell inground swim spas, outdoor swim spas, and so much more. We have decades of industry experience and have an A+ rating from The Better Business Bureau (BBB). We also offer flexible financing and free in-store water analysis for the convenience of our valued customers. Whatever your pool-related needs are, we can help.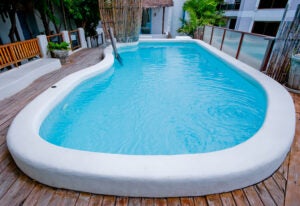 What Is A Swim Spa?
A swim spa is a swimming pool alternative that combines the therapy of a hot tub with beneficial water exercise. Not only are these backyard escapes more affordable than an inground pool, but they can also be installed in less than a day. Swim spas provide hydrotherapy, intensive physical exercise, and family fun. Additionally, you can get year-round use out of swim spas. These spas come with jets and various propulsion systems that create a water current, allowing people to exercise in place.
The Types of Swim Spas
With various types of swim spas to choose from, owners will determine which one best suits their unique needs. When looking for a swim spa that fits your needs, the swim current is one of the most important things to consider. With a wide range of manufacturers offering a wide range of varying swim currents, it's essential to determine which will best suit you before purchasing a swim spa. Below, we've gone into detail about each type of swim spa:
Paddlewheel Systems – The current is powered by a large, spinning paddlewheel.
Propeller Systems – One or more propellers power the swim current.
Jetted Systems – Current is created using powerful jet pumps.
The Features of Swim Spas
Swim spas come equipped with a wide variety of state-of-the-art features. Some swim spas feature a unique propeller design that provides a wide, deep, and smooth current, providing swimmers with a superior swim spa experience. Other swim spas feature sleek styling, including flat floors, spirited jets, and form-fitting seats. But every swim spa has its own unique look and feel. In addition to all these beautiful features, swim spas also feature the following:
Health Benefits
Fitness
Hydrotherapy
Clean, Pure Water
Locked-In Heat
Family Fun
Swimming
SoftTread™ Floor System
Fusion Touch Sound System
Low Maintenance
VIP Technology
Contact Us Today About Swim Spas
If you're looking for a swim spa to add to your property, you've come to the right place. Since 1983, AllStar Pool & Spa has served Birmingham, AL residents' pool- and spa-related needs. Collectively, our expert team boasts more than 90 years of combined industry experience, so you can rest assured you're in highly qualified and capable hands when you partner with us. Contact us today to learn more about swim spas and how they can positively impact your day-to-day life.
What Make Us Unique?
AllStar Pools is a Locally Family Owned and Operated Business
Opened in 1983
Over 90 Years Combined Experience in Pool and Hot Tub Industry
BBB A+ Rated Company
Full Pool and Spa Products and Service
Flex Financing Available!
Free In-Store Water Analysis