Swim Spa Installation Services in the Birmingham, AL area
Have Your Swim Spa Installed by the Team at Allstar Pool & Spa
When you need a reliable team to install a swim spa at your Birmingham, AL property, call on the pool and hot tub professionals at Allstar Pool & Spa. As a local, family-owner and -operated business with nearly 40 years of experience in the industry, we have become the regions premier choice for cost-effective pools and spas. Whether you're in the market for a new vinyl liner, hot tub, or swim spa, we have the cost-effective solutions that will keep you, your family, and your wallet happy. Call us today to get started with your installation.
Have a Swim Spa Installed at Your Birmingham, AL Home!
Swim spas are great addition to any residents. These spa systems not only offer year-round fun, but they are also a remarkable way to stay in tip-top shape. Don't believe us? Take it from one of the pros! World-renowned American swimmer, Michael Phelps, teamed up with Master Spas to create a premium line of signature swim and fitness spas in which we're proud to sell and install. In addition, our company offers Master Spa's H2X premium jetted swim spa as well. Whether you use your spa for fitness, family enjoyment, therapy, or relaxation, this extraordinary swim and fitness spa offers something for everyone. If these options weren't great enough, you can gain extra peace of mind in knowing that they are manufactured by a trusted leader in home spa technology. We take pride in working side-by-side with an award-winning company like Master Spa because we believe our customers deserve top-of-the-line spas with unmatched quality and innovation.
The Swim Spa Installation Process
When you buy your swim spa through Allstar Pool & Spa, you'll receive the sleek, European-inspired styling of the Michael Phelps Signature Swim Spas, or the premium jetted stylings of the H2X swim spa series. Master Spa swim spas are completely self-contained, making installation quick and easy. That's on us! As the owner, you'll simply need to decide where you would like to have your swim spa installed. All that's required is a solid, level surface that can effectively handle the weight of your chosen spa model.
The Importance of Proper Foundation for Your Swim Spa
Though Master Spa Swim Spas are great when it comes to easy installation and short setup times, potential owners will need to make sure they can follow the requirements from foundation to equipment access to electrical specification. Once filled with water and people, a swim spa can weigh up to several tons. With this weight, it is of utmost importance that the foundation beneath the spa can sufficiently support its weight. For safety reasons, a swim spa must be installed on a firm and level surface. For our installs, we recommend a concrete pad with a minimum thickness of four inches, and steel reinforcement bars crossed throughout the pad for added support. We do not recommend having your swim spa installed on patio blocks, crushed stone, sand, bricks, stone dust, or anything where the foundations can change over time. Along with proper foundation, there will need to be ample space to access the equipment bay when necessary. We urge customers to leave access to all sides of the swim spa, as many warranties will not cover the cost of gaining access for service. On the bright side, no special plumbing is required! We install your swim spa where you have chosen, you fill it up, turn it on, and it's ready to use!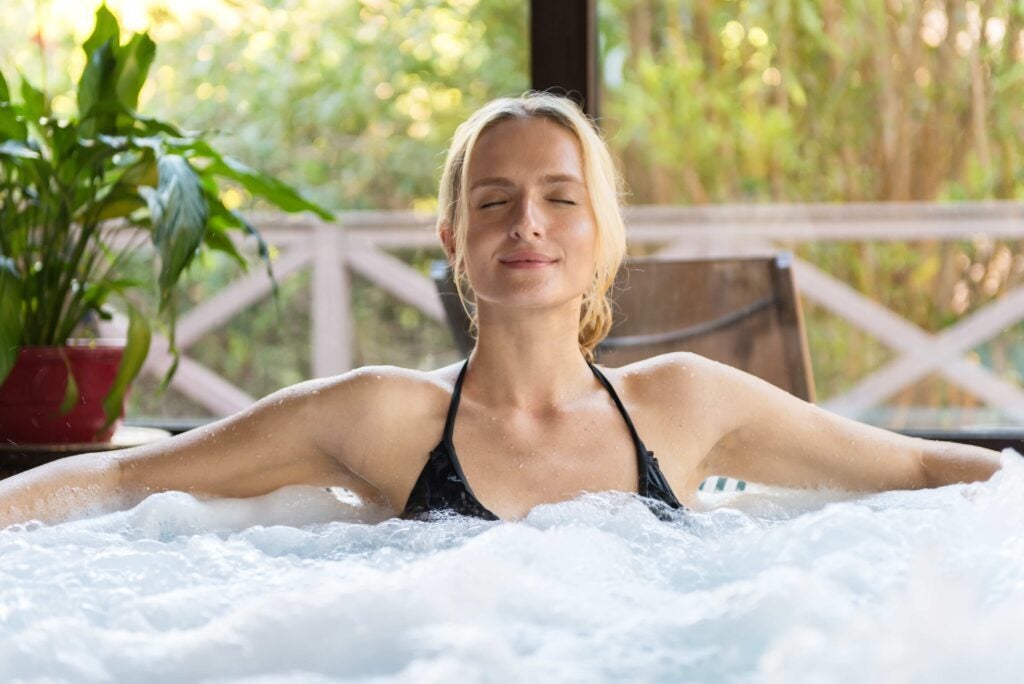 Where Will You Put Your Swim Spa?
Inside or outside, above ground or recessed, the choice is uniquely yours! Below, we'll review the potential options, so you can get a better idea of what location is best for you and your home.
Indoor Installation
Indoor installations can be included as part of the construction process. If you're wanting to have your swim spa installed in an existing space, you'll need to contact us with the specifics to ensure your property has a big enough opening to accommodate the size of your spa.
Outside Installation
Every swim spa by Master Spa comes insulated with environmentally-friendly Icynene foam and the bottoms are finished with a high-density polymer base, making them great for outdoor use. These key features help keep heat in your spa and unwanted pests out. Coupled with high-grade insulated covers, Master Spa's swim spas are some of the most energy-efficient in the industry.
Above Ground Installation
As the most popular installation option, the majority of our customers opt to install their swim spa fully above ground on a firm and level patio or deck that can handle the excess weight. If you're only choosing an above-ground installation option to avoid the added hassle of a recessed installation, we recommend having your swim spa installed on a concrete slab, and then building a deck around it!
Partial/Full Recessed Installation
It is also possible to install your swim spa in a pit, either fully or partially recessed. In these types of installations, toy want to make sure you choose a spot where you can effectively access all sides of the spa. Additionally, your swim spa must have proper drainage accessibility. Since recessed installations often come with more extensive list of requirements, our team recommends you first discuss your plans with us to ensure we can meet your specifications while still complying with proper installation requirements.
Call Now for Quick and Reliable Swim Spa Installations!
No matter which swim spa or location you choose, our team possesses the know-how and professionalism to perform installations on time and on budget. A home spa will significantly work to increase the property value of your Birmingham, AL home, as this type of luxurious and versatile feature will stand out to potential buyers if you ever decide to put your house up for sale. Maybe you're wanting a "test drive" before making the investment? We get it! That's why at Allstar Pool & Spa has a private showroom where you and your family can take a swim in these swim spas to try them out! No one else goes above and beyond like we do for our customers, so contact us today to get started.
What Make Us Unique?
AllStar Pools is a Locally Family Owned and Operated Business
Opened in 1983
Over 90 Years Combined Experience in Pool and Hot Tub Industry
BBB A+ Rated Company
Full Pool and Spa Products and Service
Flex Financing Available!
Free In-Store Water Analysis