Pool Liner Suppliers in Birmingham, AL
The Different Pool Liner Types at Allstar Pool & Spa
If you're a Birmingham, AL resident looking for a reliable company who sells pool liners, visit Allstar Pool & Spa today! We have different pool liners available and would be happy to help you with your selection. As a local, family-owned and -operated business with nearly 40 years in the pool and hot tub industry, we're sure to have the knowledge to help in your search. No matter the color or style, we're well-equipped with top-quality pool liners to fit any aesthetic. When you have pool needs, our team has the solutions. You can pay a visit to our Birmingham location to get a look at our liners in person or keep reading to learn more about our pool liner types.
The Types of Pool Liners We Offer
When your swimming pool needs a makeover, a new liner installation is enough to do the trick! No matter if your property is equipped with an above ground or in-ground pool, Allstar Pool & Spa can help you find the right liner for your pool's needs. Below, we'll discuss the liner options we sell for your pool-type:
Above Ground Pools
Pool liners are necessary components of all above ground swimming pools. A liner is designed to not only retain your pool's water, but it is also to create a protective barrier for your pool. Not to mention, above ground pool liners work to maintain the structural integrity of your pool effectively. There are three main types of vinyl liners for above ground pools:
Overlap Liners – This liner option is the most economical choice for consumers and is easy for our team to install. An overlap pool liner attaches to an above ground pool wall with coping strips. Since it will "overlap" the swimming pool wall from the inside, the coping strip acts as a paperclip that holds the liner firmly in its place. Our team uses multiple coping strips during this installation process, so we can work to contour the length of the pool's wall carefully. Though you'll be limited to solid colors or uniform patterns, there are still many stylish options to choose from in our inventory.
Beaded Liners – This pool liner-type is popular because they're the easiest to replace and come in a wide variety of designs and colors. Our team members use a bead receiver device that hangs over the top of your above ground pool wall and works to snap your beaded pool liner right into the receiver. This installation method will give your pool an even and comprehensive look all around your pool wall. Better yet, beaded liners are well-known for their designs and patterns, such as tile trims and wall borders.
Unibead Liners – This type of liner option offers ample versatility and totes a two-in-one feature allowing our team to easily replace an overlap liner. As they are very simple to install, unibead liners can replace any overlap liner or standard beaded liner. This liner comes right out of the box, ready to install. Simply hanging over the top of the pool wall and utilizing an integrated J-hook style bead at the top of the liner. The Unibead liner provides all the benefits of a protective above ground pool liner with the pattern and color choices found only on beaded liners.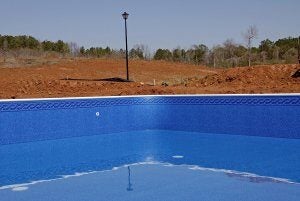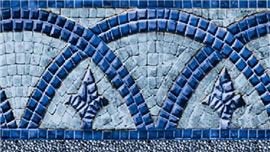 The average pool liner is projected to last around 8-10 years, though they can last a bit longer with proper maintenance. If your vinyl liner is more than eight years old and has shown signs of discoloration and extreme wrinkling, replacement is likely necessary. But don't worry! Our team can perform quick and cost-effective pool liner installs so you can get back to using your pool in no time. For smaller tears or imperfections, we're well-equipped with a variety of tools sure to fix the problem. Minor pool liner issues are relatively simple to fix, though for more extensive issues, many times, the best solution is a full replacement. With that being said, we won't just go tearing down your pool liner on a whim. We do everything possible to ensure we only do full liner replacements when absolutely necessary for the health of your pool.
Why Pool Liners Are Important
Pool liners act as a thick barrier for your pool and are designed to effectively retain water while delivering a clean and sleek appearance. Pool liners also work to maintain the structural integrity of your pool and provide a smooth, inviting surface for users to walk on and swim by as opposed to some other pool material types, such as concrete.
Why Liner Thickness Matter
Vinyl pool liners are usually 20, 27, 28, or 30 mils thick. Though the level of thickness you land on is ultimately up to you, there are a few things we urge you to consider. Think of your pools liner thickness like you would a good insurance policy. Though future problems may be unforeseeable right now, that doesn't mean you can't adequately protect yourself – or in this scenario, your pool – just in case. The level of the thickness you go with will provide that much protection. In short, choose a thickness level that is going to safeguard your pools area effectively. Though the thicker option and additional protection may cost a bit more upfront, it's the most ideal for optimal tear/puncture defense, making it well worth the investment.
Contact Us Today for More Information on Pool Liners!
Our team at Allstar Pool & Spa can accommodate your vinyl liner needs. It is essential to only have top professionals like the ones on our team install your vinyl pool liner to ensure it works as intended. Don't rely on amateurs for your pool liner installation! We cater to every project with care and keen attention to detail. You'll never catch us cutting corners, and you'll notice the difference! Call us today to get started with your pool liner installation process or visit our Birmingham, AL location to see for yourself why we have been the areas premier choice for pool liners for nearly four decades.
What Make Us Unique?
AllStar Pools is a Locally Family Owned and Operated Business
Opened in 1983
Over 90 Years Combined Experience in Pool and Hot Tub Industry
BBB A+ Rated Company
Full Pool and Spa Products and Service
Flex Financing Available!
Free In-Store Water Analysis