Vinyl Pool Liner Replacement in Birmingham
We have years of experience installing replacement vinyl liners.
Vinyl pool liners are an essential part of any pool. However, over time they will start to wear out. When this happens, it's important to trust the professionals who have had years of experience installing replacement vinyl liners. That's where AllStar Pool & Spa comes in, Birmingham's premier pool liner experts. For years we've helped our customers in Birmingham with all of their vinyl pool liner replacements and look forward to serving you today. For more information on pool liner cost, installation process, and much more, contact us today. A member of our team will be happy to assist you in providing you with more details. We look forward to partnering with you to ensure that your pool is properly lined.
Signs Your Pool Liner Needs Replacing
Different climates mean that a pool liner will have different life spans, but in general it's good to know that between 8 and 10 years is the normal time frame for most pool liners. As a pool liner starts to age, you will notice discoloration and even some leaks that occur because the vinyl gets weakened over time. When this begins to happen, it is important to start the renewal and replacement process soon before larger issues with your pool occur. Once you know a liner needs replacing, the process can begin.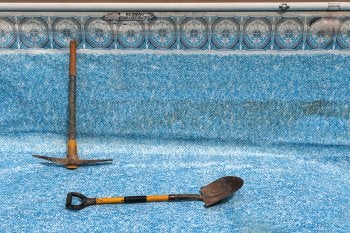 The Replacement Process
Once you have determined that you need to replace your vinyl liner, the pool must be emptied and any additional repairs on the surface of the pool must be completed. After that, the vinyl liner can be installed. Our expert team has vast experience installing brand new vinyl liners and the job does not take longer than a day to complete. Depending on the size of the pool, the replacement installation process should not take more than a few hours to complete, assuming all other components of the pool do not need further repair. Our team at AllStar Pool & Spa prides itself on quality work to ensure that your pool liner repair is fast, effective, and affordable.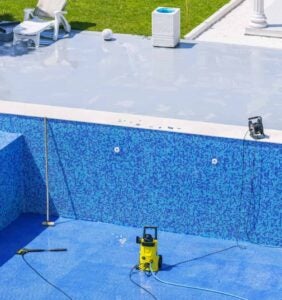 Pool Liner Repairs
For smaller tears and imperfections, our team has a variety of tools we can use to fix the problem. There are many different fixes we can utilize when small issues arise in a pool liner. For larger issues, sometimes the only solution is a full replacement, but at AllStar Pool & Spa, we do everything possible to ensure that we only do full replacements when fully needed. We know that housework of any kind can be stressful, and we aim to take the hassle out of our pool liner replacement and repair. Our family owned and operated business prides itself on dedicated customer service and quality assurance.
For top level pool liner replacement in Birmingham, contact AllStar Pool & Spa today at (205) 655-8870.