Above ground pools can be affordable, durable, and accommodating to your space. If you're planning on investing in an above ground swimming pool near Birmingham, AL, you may be wondering what options are available. Above ground pools are extremely customizable and can provide families with a flexible way of adding the fun of a swimming pool to their backyard.
Frame Pools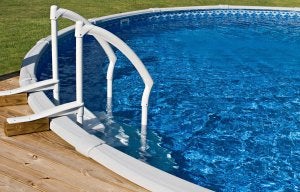 Frame pools are a durable above ground swimming pool option that can remain up year-round, but can also be quickly disassembled if necessary. These pools come in a broad range of shapes and sizes, but the most popular varieties are round and 24 feet in diameter. Frame pools are typically four feet high, but can be designed to have a deep end with a 7-foot depth. Frame pools come in both resin and steel varieties.
Steel Frame Pools
Steel frame pools can take a significant amount of abuse, often bouncing back into shape if they are bent. These pools are coated with zinc to prevent rusting, but this protective layer can break down after many years, leaving it vulnerable to corrosion. If rust appears, you can sand and repaint the seal to repair the finish.
Resin Frame Pools
This option is typically more expensive then steel frame, but they benefit from being resistant to rust and corrosion. However, when a resin pool is dented, it's usually permanent, and they are also more vulnerable to cracking than steel frame. Resin frame pools are more modern in appearance than steel frame, but their surface can fade and crack over time.
Ring Pools
The least expensive option for above ground swimming pools, ring pools are inflatable and are typically 3 feet high and 12 feet in diameter. Also called float-to-fill pool, this option gets its name from the outer ring of the pool that rises as the basin is filled with water, pulling up the walls along with it. Ring pools are an ideal option if you'd like to see if a pool is right for you without committing to the price of a frame pool.