When you're considering installing a swimming pool in Birmingham, AL, don't forget to look at the versatile options in above-ground pools . These backyard pools make for a great family fun spot or even an effective solution to increasing your exercise. Above-ground pools are the perfect investment for your family and home. If you decide to move, you pack up the pool and take it with you; or you can leave it installed as a way to increase your home's value. Whatever your reasons for installing an above-ground pool, here are the two best options to choose from.
Doughboy Palm Shore Pool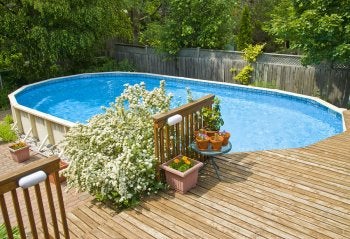 The Doughboy above-ground pool design is an amazing feat of pool technology. It may look like a regular 52" above-ground pool, but, once you get in the water, you'll find a surprise. Doughboy pools are expandable to have a 7' deep end. This pool design doubles as an above-ground and in-ground pool for your convenience. You'll never feel the decline, and you have a choice of how deep you'd like it.
Elite AllStar Pool
Elite AllStar above-ground pools are similar to what you imagine when you think of an above-ground pool. The difference is, the Elite option is an incredibly strong pool designed for your safety and convenience. The galvanized steel frame is coated in a vinyl shield for added protection against corrosion and rust. Elite come in a variety of size options for your fun and exercise.
Giving Your Above-Ground Pool Some Flare
Some people may be hesitant to install an above-ground pool for fear of losing a patio deck option. That's not the case anymore. Your pool and spa installation company can offer a variety of different patio decking options to complement your above-ground pool. Depending on your backyard size and shape, there might be some wiggling required to find the best spot, but don't let lack of a patio stop you from saying "Yes" to an above-ground pool.