There are many different swimming pool design elements and pool parts that you can customize when building an above ground pool near Birmingham . For instance, you can choose between a number of above-ground pool liner materials and styles depending upon your budget and aesthetic preferences. Here is a look at some of the most popular above-ground pool liners available for today's swimming pool designs.
Overlap Pool Liners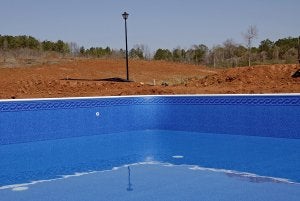 Overlap pool liners are the most cost-effective type of above-ground pool liners. They are also very easy to install, require minimal pool maintenance, and work with almost any above-ground swimming pool design. This type of pool liner attaches to the pool wall using coping strips, which are pieces of plastic that run along the length of the top of the swimming pool's deck or wall. It overlaps the swimming pool deck from the inside, preventing water from damaging the pool deck or structure.
Beaded Pool Liners
Beaded pool liners are the easiest above ground pool liner to replace, and pool repair is typically simple and inexpensive. These pool liners come in a wide variety of styles, designs, and colors to match your overall swimming pool design. The liner consists of a bead receiver that hangs over the top of the above ground swimming pool's wall or pool deck. The beaded pool liner then snaps into this receiver, preventing damage and creating a cohesive, unified look. This type of above ground pool liner is usually used for backyard pools with a consistent, flowing swimming pool design that can be echoed or repeated in the pool liner's pattern.
Unibead Pool Liners
Unibead pool liners are the most versatile type of above ground pool liner. They consist of a two-in-one feature that allows you to attach replace an overlap liner with a unibead liner. This type of pool liner can attach to either a bead receiver, or a j-hook. There is no excess pool liner material hanging over the pool's deck as there is with an overlap liner.