An above ground pool will provide you with all of the benefits of a home swimming pool, but at a lower cost. As you are preparing for a spa tub or hot tub installation in Birmingham, you may want to ask your contractor about the above ground pool options that are available for your home. The Doughboy Above Ground Pool is a stylish and luxurious pool that your entire family is sure to enjoy. To help you decide on the right pool for your household, here is a look at the benefits of a doughboy above ground pool.
Exceptional Styling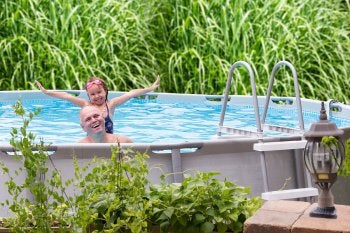 One of the most striking features of the Doughboy is its terrific style. When you install a new Doughboy in your backyard, you are sure to enjoy its premium materials and eye catching construction. Since the Doughboy is up to 52 inches in height, it offers all of the durability and commanding style of a conventional above ground pool. You can also choose to enhance your Doughboy with pool decking and other premium features.
Versatile Expansion
When you choose a new Doughboy for your family's recreational needs, you will benefit from the unique expansion capabilities of this model. The Doughboy will allow you to expand the base of the pool to choose from a pool depth that ranges from four feet to seven feet. If you have avid swimmers in your family, they are sure to enjoy the depths of the seven foot deep end of this pool.
Low Price
A top advantage of the Doughboy is its affordable price. Choosing a Doughboy over a conventional inground pool installation will allow you to save thousands of dollars on the cost of installing your new pool. If you have been dreaming of a new pool, but weren't sure whether the cost was within your reach, you will be pleased to find that the Doughboy is an affordable, durable, and stylish option for your home pool installation.