When you install a new hot tub on your property, you will create the perfect space to kick back and relax after a long day. As you are comparing different hot tubs for sale in Birmingham , you may come across a variety of hot tub and swim spa models. By comparing the differences between hot tubs and swim spas, you will be able to make sure that you are choosing the right product for the needs of your family. To help you gear up for your new hot tub installation, here is a look at some of the differences between hot tubs and swim spas.
Usage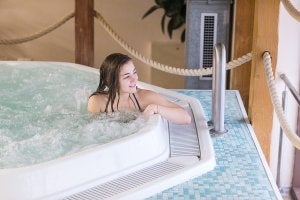 Hot tubs and swim spas differ primarily in the ways that they are used. When you install a hot tub on your property, you will typically use its warm water and jets for relaxation and entertainment. Swim spas, by contrast, are large enough to accommodate swimming and other aquatic activities. If you are seeking a larger unit that can fit every member of your family, a swim spa may be the right choice for your needs.
Maintenance
Another difference between hot tubs and swim spas is the relative maintenance requirements of each type of unit. Hot tubs and swim spas both need to be maintained on a weekly basis in order to ensure that they are clean and ready for use. If you install a swim spa that is larger than a typical hot tub, you may find that your system has additional maintenance requirements.
Repairs
After you have used your hot tub or swim spa for several years or longer, it may require routine repairs from a certified technician. Large swim spas can take more time and effort to repair than compact hot tub units. If you are shopping for a hot tub or swim spa that will have low repair and maintenance requirements, a compact hot tub may be ideally suited for your needs. Your hot tub installation expert can provide you with additional information about all of the hot tub products that are available for your home.