An Above Ground Pool in your backyard is a great place for family and friends to spend their hot summer days. Swimming is not only fun, but is a great way for kids and adults to exercise!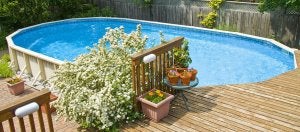 However, having a pool requires safety measures. First and foremost, there is no substitution for vigilant supervision. Always have an experienced swimmer, preferably an adult, nearby when swimming. Make sure that all individuals are able to swim. If children or adults are unable to swim, make sure they are wearing approved safety swimming devices. It is a good idea that someone around the pool area be CPR certified. On hot summer days, make sure that everyone wears appropriate-strength sunscreen. There are very few things as painful as a blistering sunburn.
Above Ground Pools usually have a 4 foot water depth. This depth is not adequate for diving into the pool or adding a slide to the pool. Serious injury is subject to occur when children and/or adults are diving or sliding in this water depth.
If an Above Ground Pool has a deck built around it, make sure that there are safety rails around the deck and a self-locking gate at the entry point. If a ladder is used as the pool entry system, make sure that the outside of the pool ladder can be secured. This will allow the entrance to become inaccessible to small children. Alarm systems are also great safety features for Above Ground Pools. When the pool water ripples or changes levels due to pool entry, the alarm will sound inside and/or outside the home. This is a great feature for homes with small children, pets, and possible pool-intruders.
The top rails, or top ledges, of the Above Ground Pools are not designed for walking or sitting. Falling from these top rails to the ground could cause serious injury.
Safety signs are important for all pool areas. These safety signs may include pool rules, pool depths, and pool safety precautions such as "No Diving", "Shallow Water", and "Deck Slippery When Wet".