Having a backyard pool offers you many benefits, but these features do require a bit of maintenance to be kept in good condition. Do you own a therapy pool or an above-ground fiberglass pool in Birmingham, AL? If so, then there are a few essentials that you should always have nearby.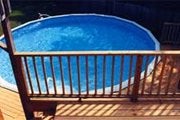 Your pool system requires a well-functioning pump and filter to keep the water clean and circulating properly. Also, regular treatment with chemicals helps control algae and bacteria that would otherwise grow in your pool water. For the off-season, pool covers are essential for winterizing your pool and keeping leaves and other debris out of the water. Finally, if you have kids or love to entertain in your backyard, then be sure to keep some floats, toys, and games in your pool area.
If you feel confused about where, to begin with, pool care, then contact a local pool company. These experts can get you started with a maintenance plan that will keep your fiberglass pool or therapy pool in excellent condition year-round.