If you are seeking a great way to kick back and relax during the winter season, you may want to consider installing your very own hot tub in your backyard . With a new hot tub, you will provide you and your loved ones with a warm and cozy space to relax, rejuvenate, and enjoy the outdoors. A company that offers hot tub installation in Birmingham will be able to help you select the hot tub of your dreams. To help you get inspired for your upcoming hot tub installation, here is an overview of some hot tub designs that you may want to consider for your home.
Overflow Spa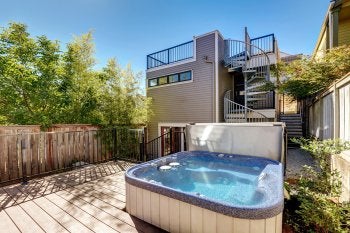 For homes that already contain pools, overflow spas are a perfect fit. With an overflow spa, your hot tub will naturally flow into your pool area. When you are designing this type of hot tub, you can choose to create 360-degree overflow perimeter that allows you to enjoy your spa from every angle. Overflow spas can also be accented with beautiful lighting, comfortable jets, and more.
Vanishing Edge Hot Tub
Vanishing edges are a top trend for both hot tub and pool designs. If your property has a beautiful view, you can choose to frame the scenery with an infinity hot tub design. To further incorporate the beauty of nature into your new spa, you can include natural elements, such as boulders or rock outcroppings. A new landscape design will complete the natural look and feel of your vanishing edge hot tub.
Tropical Themed Hot Tub
The warmth and comfort of a hot tub will naturally provide you with a tropical feel. To promote the tropical environment that is created by your hot tub design, you may want to consider planting lush foliage around your new hot tub installation. A tropical themed hot tub will also create a natural gathering area for your family and friends. The right plants can add privacy and beauty to the area surrounding your new hot tub.