Pools and similar features offer many benefits, but which type is right for you? If you're thinking about installing an above ground pool, swim spa, or hot tub in Birmingham, AL , then continue reading to learn about the differences between these water features.
Above Ground Pools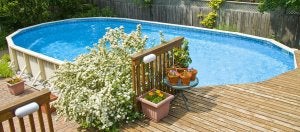 For families with kids, above ground pools are typically the best choice for backyard water features. Pools offer plenty of room for playing and exercise, and they are ideal for creating an outdoor area for entertaining. However, above ground pools can take up a significant portion of your yard and can't be used year-round, although the use of a pool heater can extend your pool season by a couple of months. Finally, pools can require more upkeep and safety precautions than swim spas and hot tubs.
Swim Spas
For individuals who want to enjoy many of the activities that they can in a full-sized pool but within a smaller space, swim spas offer an excellent solution. Swim spas are ideal for exercise and have water jets that can be set to various levels of resistance so you can swim laps with no need for making turns or having a large pool. Also, you can use a swim spa for hydrotherapy by warming the water temperature and relaxing against the comfort of the water jets. Swim spas are the best choice for individuals who want the therapeutic benefits of a hot tub combined with the exercise qualities of a swimming pool.
Hot Tubs
If you're looking for a water feature that is compact and designed for comfort and relaxation, then a hot tub could be the best choice for your needs. The warm, pulsating water provided by these features is perfect for relieving stiffness and pain in aching joints. Additionally, when in a hot tub, the body can release endorphins that decrease muscle tension and improve mood. Hot tub maintenance is simple when done properly, and you can choose to install either an indoor or an outdoor hot tub for maximum convenience.