If you have been looking for a terrific way to kick back and relax at the end of a long day, you may want to consider a hot tub installation for your home. A new hot tub will offer you a tranquil and serene place for enjoyment, relaxation, and rest. With the help of a company that specializes in above ground pools and pool supplies serving Birmingham, AL, you will be able to select a pool and spa that is perfectly suited to your lifestyle. After your hot tub installation is finished, you may wonder how you ever lived without your own in-home spa. Read on for a closer look at the many benefits that hot tubs have to offer you.
Increased Relaxation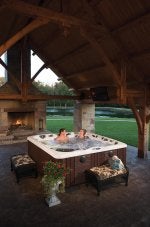 When you are the owner of your own hot tub, you will benefit from increased relaxation on a daily basis. As you spend time in your hot tub, you will be able to feel the stress and strain of your daily life melt away. In addition, the heated water in your hot tub will encourage good circulation, which will provide additional stress relief.
Heal Sports Injuries
Healing after a sports injury can be a trying time in the life of any athlete. When you are nursing a sport or athletic injury, a hot tub will have many benefits to offer you. Using hot water treatments to heal a sports injury has been shown to speed up the recovery process. In addition, the therapeutic jets that are included in many hot tubs can also provide a healing massage.
Relieve Soreness
For those who suffer from arthritis or other sore joint issues, hot tubs offer many benefits. By spending time in your hot tub, you will be able to relieve your sore joints and help to restore mobility and relaxation. In fact, studies have shown that a hot tub can help arthritis patients speed up their recovery process.