If you have been deciding between installing a large or small pool in your backyard, then perhaps you have yet to hear about swim spas in Birmingham, AL. Swim spas are an above ground pool option that will greatly benefit your backyard. Once you install a small swim spa, you will be happy with the amount of landscaping space you have left over, and you will greatly enjoy the increased savings. Let's take a closer look at how you will benefit from a small swim spa in your backyard.
More Room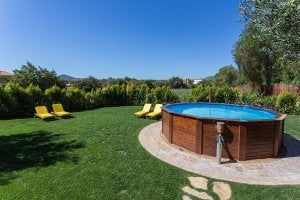 Having more room in your backyard, while still enjoying the benefits of a pool, is one of the biggest benefits you will find with a small pool. It is easy to swim and enjoy a fun time with your family in a small swimming pool. When you exit, you still have a significant amount of your backyard to enjoy as well. You can incorporate an outdoor kitchen, a grass lawn, or a large garden. When you choose a small pool, such as a swim spa, then you never have to worry about taking up too much space in your backyard.
More Savings
From the purchasing process to installation to maintenance, you will notice much more savings from a small, above ground, swim spa than you would from a large, in-ground pool. Swim spas use fewer materials and have an easier installation, making them less expensive than larger options. You will typically use less water to fill a swim spa, which will also amount to greater savings.
Less Maintenance
The smaller your pool is, then the less maintenance you will have to do. Most pools require the same type of machinery and chemicals to keep the water sanitized and clean-looking; however, a smaller pool will use these items less than a larger, inground pool. This reduced amount of maintenance means less work for you and more savings for your bank account.
Speak with your local swim spa installer about how to enjoy a small pool in your backyard.